CCC 12 Judgment: Zanu PF shows voters the middle finger.
By Dr Oliver Kapepa
It is evident that Zanu PF under Mnangagwa has gone rogue – an axis of evil.
Nonsensical as it is, it's not that the judgement was not utterly expected under a rascal regime. With Zanu PF under a mischievous Emerson Mnangagwa anything is possible, even the most ludicrous and comical like denying citizens the right to elect their own representatives and barring candidates whom ZEC, the only mandated body to deal with nominations had accepted as duly nominated.
The sagacious say, forewarned is forearmed. Mnangagwa irked by possibilities of an epic electoral 23 August defeat would have reminded the judges that he owned the judiciary, like he owns the army, the police, the treasury and the central bank, the minerals and anything that is supposed to be Zimbabwean, has become his. As such court decisions must favour him, even when its comedy to civilised passers-by to comprehend.
The audacious of Zanu PF manufacturing transgressions and ascribing crimes and electoral technicalities to opponents based on social media is most telling. And then for a whole learned judge to tell ZEC that they in fact did not receive the 12 nominations by 4pm which ZEC insists they did is interfering with the administrative processes of an independent body. It seems like what Zanu PF says goes. Even if they wake up and decide that all the 210 CCC candidates filed their nomination papers late, the judges who live at the benevolence of Mnangagwa will gleefully agree. Even if Zanu PF says the sun rises from the West to the East, the Zimbabwe judiciary will unanimously endorse that new discovery as fact. If Mnangagwa says black colour is in fact white, our courts will still agree. That's how nonsensical our institutions have become.
We have seen how in 2018, Justice Malaba infamously endorsed a defective electoral process with defective excel numbers in favour of Mnangagwa. In this silly election season, Saviour Kasukuwere got the ball rolling when the judge barred him from contesting as a presidential candidate, even adding an insult for good measure to make it sweeter to the Zanu PF pay-masters that he should stop 'masquerading' as a candidate. How can a person whose nomination was accepted by the only known electoral body and gazetted as required by law 'masquerade' as a candidate?. How whole learned judges pander to the whims of Zanu PF, one of the many political parties in Zimbabwe leaves you in no doubt that our democracy went to the dogs eons ago.
The 12 CCC candidates were obviously ejected at the behest of Mnangagwa who fears walloping in the Bulawayo province Zanu PF has never won since 2000 except for just a single constituency in the outskirts of Bulawayo South. In a quest for unwarranted political dominance, Zanu PF and Mnangagwa have flagrantly shown Matebeleland the middle finger. They have chosen Bulawayo, whose people are still weary and traumatised from the aftermaths of Gukurahundi as a battleground for political games, skulduggery, thuggery, chicanery and shenanigans. To impose 12 unwanted Zanu PF representatives to that vital province, is utter disrespect to the people of Bulawayo of the highest proportion. The abrasion and erosion of peoples voting rights defectively endorsed by a pliant judiciary is a pointer to a banana republic that has no standing among the progressive democratic states in an increasingly civilised world.
Zanu PF cannot be allowed to whimsically manufacture legal and administrative technicalities to get rid of its opponents and unleash the judiciary to sanctify and sanitise the smelly processes. Learned judges must start resisting Zanu PF trinkets and start making decisions for the people. The world is watching and judging them.
Zimbabweans deserve respect and better.
It is high time Zimbabweans repay the disrespect being shown them by a pliant judiciary and other state institution at the behest of Zanu PF by showing Mnangagwa the red card. It is sad that the self-inflicting good country is not about to undo the pariah state tag.
6 people killed as diamond mine plane goes down in Mashava – ZimLive.com
<!– Get daily updates directly to your inbox
Thank you for subscribing!
Could not subscribe, try again laterInvalid Email
–>
MASVINGO – All six people onboard were killed on Friday when a Cessna 206 plane owned by diamond miner Rio Zim went down in the Zvamahande area near Mashava, Masvingo province.
The plane, which took off from Harare and was going to Murowa Diamonds Mine in Zvishavane, broke into pieces on impact.
The cause of the crash which happened at around 7AM is under investigation.
National police spokesman Assistant Commissioner Paul Nyathi said emergency services were deployed and air crash investigators were also at the scene.
This is the second plane crash involving a Rio Zim plane in eight months.
In February, a Piper 31 Navajo plane made an emergency landing in a field near Beatrice, injuring the five people onboard. The plane was flying diamonds to Harare.
Big mining companies prefer flying high value minerals to their secure facilities in Harare for security reasons, but many of the small planes able to land and takeoff from these mines are old and prone to technical faults.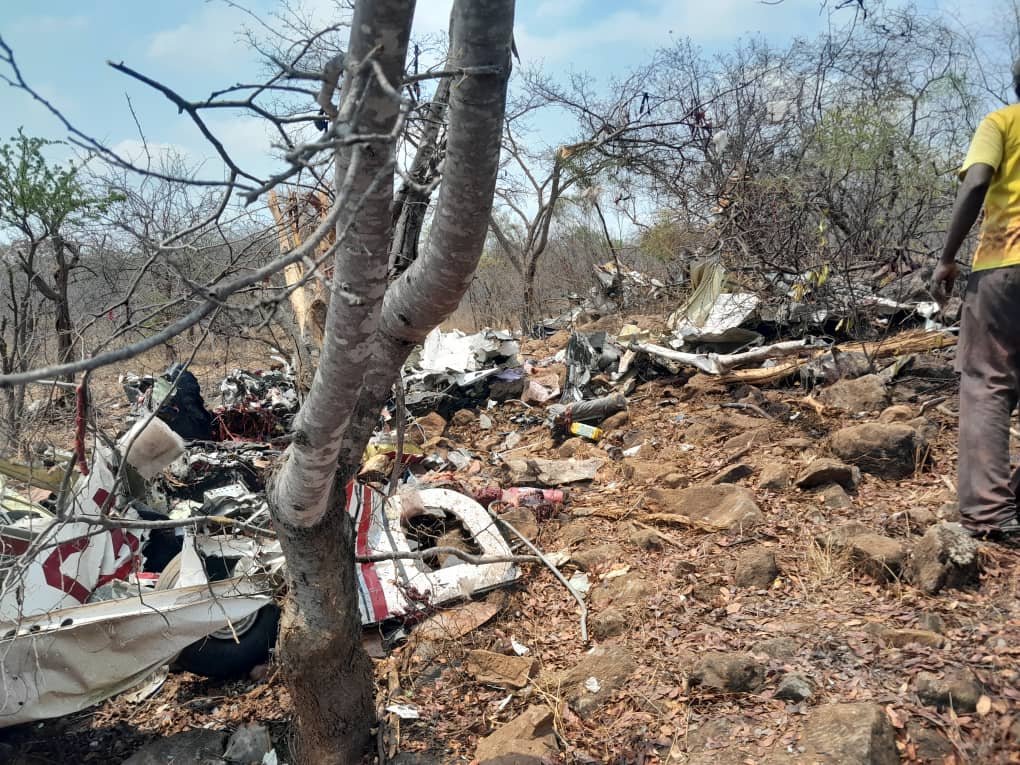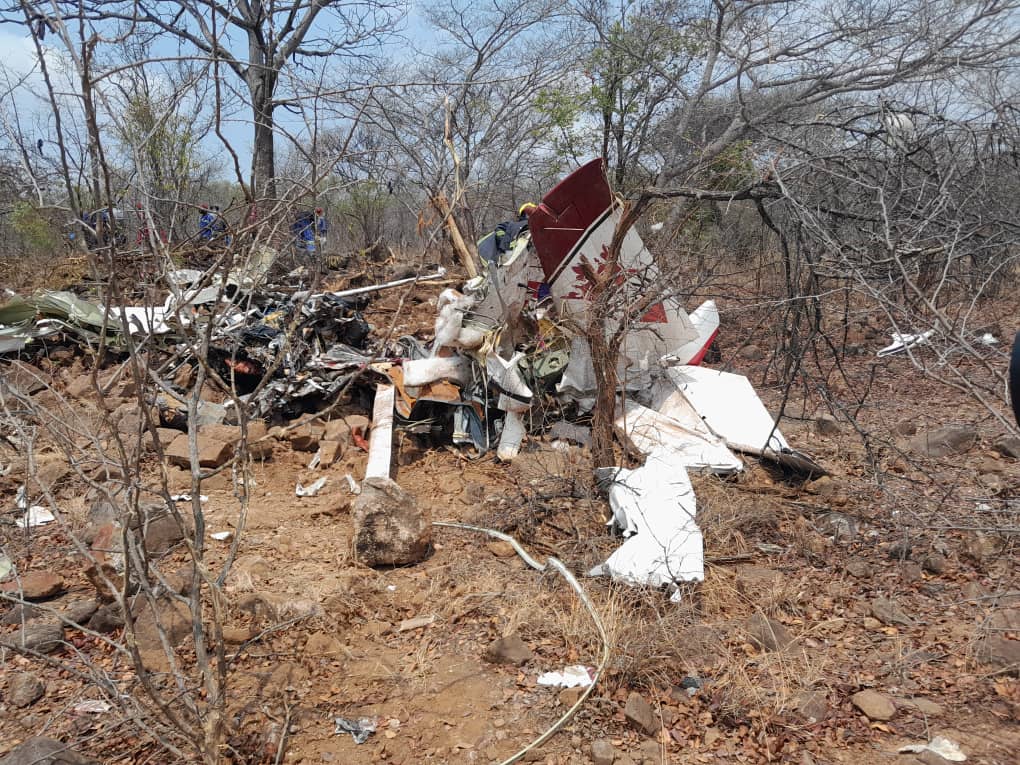 No place for career politicians in CCC: Chamisa – NewsDay
Chamisa has since disputed the August 23 to 24 election result that saw Zanu PF leader Emmerson Mnangagwa being declared the winner. The opposition movement said the elections were stolen and is pushing for fresh polls.
CITIZENS Coalition for Change (CCC) leader Nelson Chamisa has advised career politicians within his party to form their own if not happy with his leadership style.
Addressing CCC Mashonaland East provincial members at Mbuya Nehanda Hall in Marondera on Wednesday, Chamisa said his party was not a home for career politicians.
"Those who want positions, let me say, form your own party. No one is ever going to form a party stronger than this (CCC)," he said.
The firebrand politician is currently on a nationwide tour meeting provincial executives, receiving reports on the just-ended harmonised elections.
Chamisa has since disputed the August 23 to 24 election result that saw Zanu PF leader Emmerson Mnangagwa being declared the winner. The opposition movement said the elections were stolen and is pushing for fresh polls.
Chamisa has been accused of sidelining party bigwigs opting for young activists.
"Leading a nation is not about studying books, it is about studying the hearts of the citizens. We are not here for opportunists.
"We are an organised citizens' movement. We are guided by the citizens. If you had a post in the MDC, it has nothing to do with the current set-up," he said.
Chamisa said he was not losing sleep over the holding of an elective congress for the party.
"We are not moved about the congress issue, we are not in a rush. We are aware that they think CCC is a structure-less party. If we are a structure-less party, how did we elect mayors, councillors and MPs? If you go to Goromonzi or South Africa, you will see leaders there," said Chamisa.
Chamisa, who according to the Zimbabwe Electoral Commission (Zec) garnered 44% of the presidential votes against Mnangagwa's 52,6%, admitted that it was not easy to defeat Zanu PF.
"It was not easy to defeat Zanu PF, they had State institutions support like Zec and army. There was FAZ (Forever Associates Zimbabwe) and they had traditional leaders as the party commissars. The good thing is that, with all that, we won the election," he said.
According to the Sadc Election Observer Mission report, Zimbabwe elections did not meet local, regional and international standards hence were not free, credible and fair.
Chamisa told the delegates that even if Sadc fails to intervene, God will intervene.
Related Topics
Zimbabwe: Mnangagwa fails to break with the past, fuels cycle of … – Amnesty International
Shrinking civic space, crackdown on human rights and attack on peaceful dissent intensifies.
Mnangagwa followed Mugabe's steps in misusing laws as instrument of oppression.
False hopes for a new Zimbabwe as former regime's legacy of violence, oppression and impunity endures.
The government of President Emmerson Mnangagwa in Zimbabwe has failed to live up to its promises for change and break with Robert Mugabe's brutal human rights legacy, Amnesty International said in a briefing today.
Following an election marred with human rights violations, president Mnangagwa was elected, and a new cabinet announced. The briefing outlines a human rights agenda for Mnangagwa's second term in office and calls for him and his cabinet to improve and prioritize human rights in Zimbabwe. 
Human rights under attack: A review of Zimbabwe's human rights record in the period 2018-2023, details how authorities have systematically supressed peaceful dissent, making it increasingly challenging for people to freely express their opinions. The briefing also describes a disturbing trend towards the militarization of policing and a rise in the use of excessive force by law enforcement during protests.
Amnesty International found that individuals who speak out or organize protests often face persecution. In some cases, relatives of protesters have been targeted and harassed as a way of intimidating activists. Abduction of human rights defenders and activists has also been on the rise.
"The Mnangagwa administration has lost a historic opportunity to right the wrongs of the past and, instead, has ramped up efforts to suppress human rights," said Khanyo Farisè, Amnesty International's Deputy Director for Southern Africa.
"The cyclical nature of violence will continue until there is genuine political will to uphold human rights and end impunity. The Zimbabwean government must make genuine efforts to deal with the past injustices to ensure that history does not repeat itself."
Legislate to repress.
Under the Mugabe administration, authorities amended existing legislation or introduced new laws with the excuse of protecting national security or facilitating access to information, to target dissenting views and groups, and limit the space for political debate. More recently, authorities have followed similar repressive practices.
In 2002, the Mugabe administration passed the Access to Information and Protection of Privacy Act (AIPPA), which was misused to thwart the growing influence of opposition groups and other critical voices.
A little over two decades later, in July 2023, under President Mnangagwa authorities passed the Amendment to the Criminal Law (Codification and Reform) Act or the Patriotic Bill. It follows in the same tradition of the AIPPA and criminalizes "wilfully damaging the sovereignty and national interest of Zimbabwe." The Amendment frames the offence in vague and overly broad terms which opens it up for abuse by the state. It also provides for the use of the death penalty.
Both pieces of legislation were introduced in the run-up to an election and affected people's ability to freely express themselves, and exchange information and ideas.
"The Mnangagwa administration has continued to misuse the law to crack down on human rights and on anybody who dares to voice a dissenting opinion," said Khanyo Farisè.
"The enactment into law of the Amendment to the Criminal Code will invariably have a chilling effect on would-be dissenters, particularly given the hefty penalties it carries."
Other pieces of legislation that were amended, or introduced, by the current administration and have had a chilling effect on civil society include the Cyber and Data Protection Act [Chapter 12:07] (No. 5 of 2021), the Freedom of Information Act, 2020 (which replaces the AIPPA), the Maintenance of Peace and Order Act [Chapter 11:23], and the Private Voluntary Organizations Amendment Bill, H.B. 10, 2021.
In September 2022, authorities used the Cyber and Data Protection Act to arrest two journalists. Wisdom Mudzungairi, the editor-in-chief of Alpha Media Holdings and editor of NewsDay newspaper, and Desmond Chingarande, a senior reporter at NewsDay, were arrested for allegedly transmitting false data with intend to cause harm. They were summoned to Harare Central Police Station. They were questioned in connection with a story they had published on a private business enterprise believed to be run by individuals with connections to the government. They were charged with transmitting "false data intending to cause harm" and released three hours later after their lawyers assured officers that they would be available for further questioning when needed.
Their stories illustrate a wider pattern of systematic attacks on media freedom with at least 15 journalists reporting being assaulted, arrested, or detained by security agents in 2021 alone for carrying out their legitimate work.
Hopewell Chin'ono, a freelance journalist and anti-corruption activist, faced repeated police intimidation and harassment. He was detained three times and more for than 80 days between July 2020 and January 2021. This was due to his efforts to expose allegations of government corruption and advocate for the right to peaceful assembly.
A number of other laws have also been used to stop people from voicing dissenting opinions and organizing with others.
In 2022, Zimbabwean author and activist Tsitsi Dangarembga, along with activist Julie Barnes, were convicted and sentenced to a six-month suspended sentence for allegedly "inciting violence" following their participation in a protest on 31 July 2020. However, they successfully appealed against both conviction and sentence.
The political reprisals intensified as Zimbabwe drew nearer to the 2023 general elections, when Mnangagwa was elected for a second term. In January for example, 25 members of the opposition political party Citizen's Coalition for Change (CCC) were arrested and physically assaulted for holding a meeting at a private residence in Budiriro.
On 17 May, six students from the University of Zimbabwe –Benjamin Watadza, Emmanuel Chitima, Comfort Mpofu, Lionel Madamombe, Gamuchirai Chaburumunda and Darlington Chigwena– were arrested after they staged a peaceful protest in Harare.
Amnesty International calls on the Zimbabwe authorities to uphold and adhere to the 2013 Constitution and the country's international human rights obligations, and ensure that the values and principles, and the human rights they enshrine are effectively respected, protected, promoted, and fulfilled. 
The organization also urged regional heads of state including at the Southern African Development Community and the African Union to play their part in ensuring human rights are a reality for all in Zimbabwe, and on the African Commission on Human and Peoples' Rights to conduct a fact-finding mission to investigate reports of human rights violations in the country. The African Commission should publicly condemn the growing crackdown on human rights in Zimbabwe and call on the authorities to uphold their obligations under the African Charter on Human and Peoples' Rights.