Dr Matifadza Nyazema – The Woman who does not take no for an answer
Matifadza Nyazema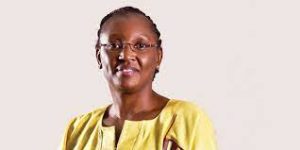 By Tapfuma Machakaire 17/10/2022
An upbringing by hospitable Catholic parents who looked after scores of relatives at their Mbare home produced a renowned female entrepreneur, who now runs a luxury boutique hotel in Victoria Falls.
Matifadza Nyazema says growing up she witnessed her father's hospitality as he welcomed every relative to their Harare home. Such hospitality inspired Nyazema to venture into the tourism industry where she is now welcoming tourists from across the globe.
"An interesting statistic is that I have 56 first cousins. I know I counted and actually wrote a story about it. All of those cousins, all of their parents at one time or another came to live in our house because we were the Harare city people. What I remember most is that everyone was welcome, and I am just talking of immediate family." Nyazema told Alpha Media Holdings chairman Trevor Ncube in an interview.
Mbano Manor Hotel is situated 200metres from Victoria Falls National Park in a town where humans, wildlife and nature interact.From the comfort of the luxurious rooms of the hotel it is the norm to hear lions roaring in the distance.
Mbano Manor is the ultimate destination for nature lovers where the bushveld wraps itself around the hotel buildings. "With the construction, we only took down two trees," says Nyazema. The idea was to build a small, exclusive lodge that would match anything Kruger or the Serengeti had to offer.
Nyazema conceptualised and developed the luxury boutique hotel that comprises 19 suites, becoming the first black female Zimbabwean to achieve such a feat.
She says the idea of investing in Victoria Falls was born out of a school trip that she took to the resort town when she was a kid.
"When I was seven or eight years old my father took us to Victoria Falls. He took his school. So, we went by train. I was very young, but I remember it very well. It was me and my older sister. That was a lasting memory for us."
Matifadza Rukanzakanza was born on her grandfather's farm in Msengezi Mashonaland West Province. Her parents then lived in a nearby small town, Kadoma in Rimuka high density suburb. Her father was a teacher and the mother a nurse. The couple later moved to Harare where Matifadza enrolled at Chipembere School in Highfield before the family moved to Mbare where her father had been elevated to the position of headmaster at Gwinyai Primary School. Easy access to the library at her father's workplace enabled Matifadza to develop a culture of reading. She did her secondary education at St Dominic's Chishawasha and later St Ignatius College.
Mati as she is affectionately known studied journalism in Nairobi Kenya through a Danida scholarship and worked briefly as a sub editor with the Zimbabwe Broadcasting Corporation in the early eighties.
She later did a Bachelor of Administration and Political Science degree at the University of Zimbabwe and joined the Zimbabwe Tourist Development Corporation in the public relations department before moving to marketing.
Mati later got a scholarship to study for a master's degree in international hotel management in the United Kingdom. On her return home she joined Zimbabwe Sun Hotels, as reservations manager. In 1992 she joined British Airways as sales manager and later rose to area marketing manager for British Airways sub-Saharan Africa based in Johannesburg.
"I was part of a global marketing team. We would rotate meetings around the world. All of that laid the foundation of what you are witnessing today. I have so much experience from so many countries and I've actually stayed in some of the best hotels in the world." Nyazema told a visiting Sunday Times reporter.
Between 2006 and 2016 Nyazema worked as the executive director of the Sandton Convention Centre in Johannesburg South Africa.
When she decided to embark on the project of constructing a hotel in Victoria Falls, Nyazema invited Norman Wallace a former employee of Tsogo Sun in South Africa for a meeting to discuss the project. Wallace was accompanied to the meeting by a renowned interior designer, Ryan Illgner.
"The magic of this place is you have hoteliers who sat round the table and designed a hotel before involving an architect. The three of us knew the five-star standards, we knew what works and doesn't work."
Nyazema says the actual construction was tough as most of the materials had to be imported from South Africa. Her inspiration behind Mbano Manor Hotel's architecture was a trip to the island of Bali, Indonesia, where she stayed in a secluded hotel situated in a tropical forest.
"It was exclusive and secluded it was absolutely amazing," she says.
An estimated US$7million was required for the project, money which Mati and husband, Norman Nyazema, a renowned professor of pharmacology and businessman, could not afford.
Nyazema started the search for money in SA after putting together a comprehensive 44-page prospectus with all the financial projections. But no-one was biting.
"The Industrial Development Corporation even flew investment professionals to Victoria Falls to inspect the site but decided against investing."
Eventually pension funds investing on behalf of sugar producer Tongaat Hulett and banking giant Standard Chartered came on board with construction funds.
"I probably made over 100 presentations for money, I'm not exaggerating. I know where every bank in town is. I know where every pension fund in town is," says Nyazema.
After two years of building, the hotel opened its doors in January 2020. It has 18 employees mostly locals from Victoria Falls area. Nyazema's spirits were not dampened when six weeks after the hotel opened its doors the Covid-19 pandemic struck which saw the country going into a lockdown.
"We believe in our country and we believe in the success of our country and we are going to do our two cents' worth to actually make it a success."
Matifadza is a Shona word which means you have made us happy. If Mati has not made her family and country happy, then who deserves that accolade?
Messi, Argentina try to avoid World Cup upset vs. Australia – The Zimbabwe Mail
DOHA, Qatar (AP) — Australia's players speak in glowing, almost reverential terms about Lionel Messi.
"He just does things that, you know, no one else can do," forward Mathew Leckie said.
Milos Degenek went even further. "Probably," the Socceroos defender said, "the best footballer ever to grace the game."
Imagine, then, how they'll be feeling on Saturday when they share the same field as Messi and his Argentina team in the last 16 of the World Cup.
These are pinch-yourself times for a group of unheralded players who were expected to be on their way home by this stage of the tournament. Yet here they are in Doha, looking to cause the latest upset in a World Cup that has been full of them — right from the moment Saudi Arabia shocked Argentina in perhaps the most unlikely win in the tournament's 92-year history.
That set the tone for the past two weeks, during which Japan has beaten both Germany and Spain, Morocco has defeated Belgium, Tunisia has beaten France and, let's not forget, Australia has stunned Denmark.
The Australians want to add to that list.
"No one expects us to win," Leckie said. "So let's shock the world."
Don't expect any complacency among the Argentina squad, though. Not after what transpired against Saudi Arabia during the group stage.
"We know, at the moment, everything is very difficult," said Messi, who is bidding to win the World Cup in his fifth and likely last attempt. "All the opponents are complicated. We know it as well as anyone."
There is a growing feeling, though, that Argentina might have come through the worst of the storm. It is only a week ago that Argentine soccer was going through a period of introspection, digesting one of its most embarrassing results ever.
Then, after an hour of its second group match against Mexico, the Albiceleste were being held 0-0 to raise the genuine prospect of a group-stage exit with a game to spare.
Now, Argentina has qualified as the winner of its group and is facing the world's 38th-ranked nation, which is playing at this stage of the World Cup for only the second time, after 2006. Netherlands or the United States will be the opponent in the quarterfinals.
Midfielder Rodrigo de Paul suggested Friday that Argentina's surprise loss to Saudi Arabia actually had a positive effect on the team.
"We found ourselves in a situation that we weren't used to. It had been a while since our last defeat," de Paul said of the end of the team's 36-match unbeaten run. "That's when you see the character of the team, what kind of group we are. That was the moment to rise."
None of Argentina's players will dare get ahead of themselves but it's undeniable that the draw has opened up for them.
"We went back to being what we were for a long time," Messi said after Argentina's 2-0 win over Poland that secured a place in the last 16, "and how we were looking to be at the beginning of the World Cup, which for different reasons we could not manage.
"It gives confidence for what is coming."
Argentina coach Lionel Scaloni looks to have finally found a winning formula in Qatar. The center of midfield now appears to be set, with Alexis Mac Allister and 21-year-old Enzo Fernandez having forced their way into the starting team alongside Rodrigo De Paul.
Up front, Julian Alvarez has dislodged Lautaro Martinez and should keep his place against Australia, fresh from finishing off a 27-pass sequence for an exquisite second goal against Poland.
"We have an idea of how we want to play, but we'll see how the players feel after training today," Scaloni said.
The only place that looks up for grabs is at center back, with Lisandro Martinez having dropped out against Poland perhaps so Argentina had a taller player to deal with the aerial threat of Robert Lewandowski.
Given only one player in Australia's 26-man group plays in Europe's top five leagues, it appears to be a mismatch at Ahmad Bin Ali Stadium.
And then there's the Messi factor, a subplot which is hanging over the World Cup as he looks to win the only major title to elude him in his career.
"I think they're obviously driven by the motivation that it could be Messi's last World Cup," Degenek said, "and he wants to win the World Cup and end it on a high. For us, it's about stopping that. Unfortunately, I'm a big fan of his, but I'd love to win the World Cup probably more than him."
___
Uganda says its debut satellite launched into orbit – CNA
KAMPALA : Uganda's first satellite has been successfully launched into orbit from the International Space Station (ISS) and the East African nation's ground controllers were in contact with the device, the government said on Friday.
The PearlAfricaSat-1 spacecraft was rocketed to the ISS by NASA on Nov. 7, alongside Zimbabwe's ZimSat-1, with officials saying it will help Uganda monitor weather and disasters, map its mineral wealth and generate other crucial data.
"Today, Friday Dec 2, 2022 at 1045 EAT Uganda's first satellite PearlAfricaSat-1 was deployed into orbit from the International Space Station," Monica Musenero Musanza, minister for science, technology and innovation said in a statement.
She said Uganda's ground station, located in Mukono district, about 25 kilometres (15 miles) east of the capital Kampala, was now "in communication with our satellite."
The satellite was developed by three Uganda engineers in Japan, with technical assistance from Japan's Kyushu Institute of Technology.
President Yoweri Museveni has said he wanted to develop the country's technological capacity to cope with challenges in sectors such as agriculture, security and natural resource management.
Critics say the satellite programme is a vanity project for a country still grappling with problems like poor transport and health infrastructure.
Europe wants Zimbabwe's coal but Biden won't remove sanctions – TFI Global News
Zimbabwe sanctions: Europe is energy-hungry. Do not be fooled by the bunch of encouraging news coming out of Europe as energy prices have decreased since the summer, and recent dry weather has led to the filling of European gas reserves.
Due to the scarcity of coal, on which a significant portion of European nations are compelled to resort, the energy crisis is still present and poses a serious threat to Europeans. The situation has deteriorated in some countries, like Poland, that people are stealing coal.
In the midst of this, a European country has reached a coal agreement with Zimbabwe. But the White House continues to remain a major hurdle.
According to a media report by Reuters, Zimbabwe Contango has plans to export thermal coal to UK in 2023. Reportedly, the London-listed branch of Contango, following requests from customers in Europe and Asia, has planned to start importing thermal coal from its Zimbabwe mine in the first few months of 2023.
For those who don't know, Contango owns 70% of the western Zimbabwe's Lubu project, in Hwange district which is rich in coal.
The company's primary goal is to supply its low-sulfur coking coal to the industrial and ferroalloy markets in southern Africa, but it has found the current prices of thermal coal, which is used to generate electricity, to be attractive.
Zimbabwe wants money, but Sanctions
Zimbabwe's neighbor South Africa saw an eight-fold increase in coal exports to Europe during the first half of 2022 after the European Union banned coal imports from Russia as part of sanctions for its invasion of Ukraine.
Similarly, Zimbabwe is also keen to earn an extra buck. In a public statement, the UK-based Contango has stressed, "Fuelled by the dramatic rise in thermal coal prices over the past 12 months … the board is now considering a coking and thermal operation, delivering 10,000 tonnes of coking coal and 10,000 tonnes of thermal coal per month based on current capacity in H1 2023," (sic)
If this happens, Zimbabwe would surely become a reliable partner of UK and other European nations. However, this collaboration between UK and Zimbabwe could hit a snag due to America's interference and sanction game.
Thanks to the USA, Zimbabwe has endured a turbulent political and economic situation for a very long time. The real reason the West imposed sanctions on the African nation led by former President Robert Mugabe was that it refused to recognize the dominance of the US and Europe and had positive ties with West's counterparts, China and Russia.
Years have passed, and Mugabe is gone. Yet, the USA hasn't thought about lifting its sanctions, only because of their god-damn superiority complex.
Read More: Zimbabwe ditches American Dollar and shifts to gold; more African nations to follow the suit
Will Europe Violate sanctions
Till today, US officials reiterate that sanctions are not targeted at most Zimbabweans but at individuals who are responsible for human rights abuses, anti-democratic actions, and corruption. But at last, we all know the reality.
Since the 1990s, skyrocketing inflation, debt distress, poverty, unemployment, etc. has grappled the flourishing economy of Zimbabwe. The nation has lost about $100 billion in aid and grants from financial institutions such as the African Development Bank due to West's sanctions. The World Bank uncovered that the GDP of Zimbabwe fell from $6.78 billion in 2001 to $4.42 billion in 2008.
Read More: Zimbabwe fast-tracks de-dollarization of its mineral sector
The sanctions have stifled the development of the nation as it is barred from getting much-needed loans from the International Monetary Fund and also misses out on probable trade deals.
If Europe wants to reduce its energy thirst with the help of Zimbabwe, the very first thing it may have to do is remove trade sanctions against it and violate the ones imposed by the USA. Now, has the Europe guts to do this? That only time would answer.