Fashion speaks louder than words – NewsDay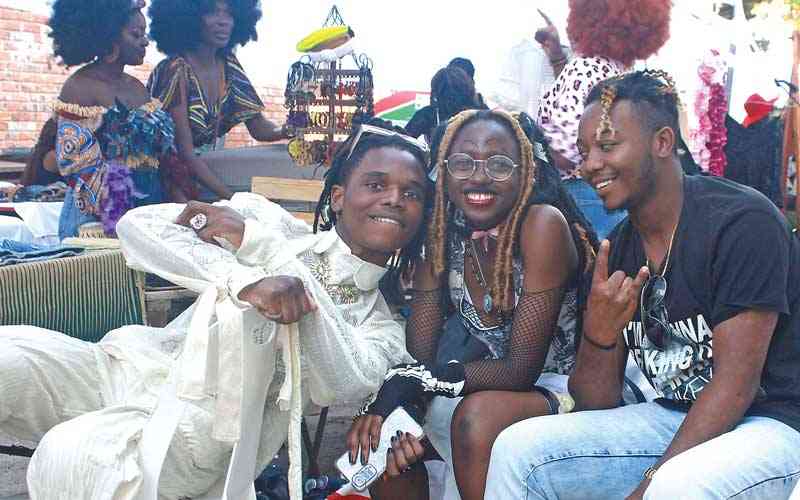 The annual event, in its sixth edition dubbed Fabrikans Convention, has developed into a three-day showcase with a street wear market, workshops, fashion shows, visual art, live bands and a roster of disc jockeys.
THE language of fashion was loud and clear at the recently held Skeyi and Strobo Fabrik Party at Alliance France de Harare.
The annual event, in its sixth edition dubbed Fabrikans Convention, has developed into a three-day showcase with a street wear market, workshops, fashion shows, visual art, live bands and a roster of disc jockeys.
Young people in Zimbabwe can be credited fully for inventing a new language that finds expression through music and other communication channels.
Most parents and guardians understand the need to accept the ever-evolving culture, which helps in bridging the generation gap.
Fashion, however, has not been more favourably embraced. Stereotyping creates public perception of young people as drug addicts, thieves and sex workers, resulting in self-censorship.
Brainchild of Ulenni Okandlovu and Caligraph mural painting, the duo of Danai Jeche and Marcus Zvinavashe, said the SS Fabrik Party created a safe space to celebrate the fashion subculture, provide young people the opportunity to fully express themselves.
As the term Fabrikans suggests, the event brings together like-minded people with a deep interest in exploring creative possibilities through fashion and fabrics.
The event calls for an open mind free of judgement and preconceived ideas about what clothes should look like.
It is an eye-opening and rewarding experience to see young people dressed up in ways which demonstrate unfettered imagination and inventive creativity which should inspire efforts in other fields such as engineering, architecture, medicine, law and social sciences.
One noticeable thing about the fashion design was the use of available resources.
While the local market for clothing is saturated with cheap imitations of international luxury brands such as Louis Vuitton, Balenciaga, Gucci and Prada, there was no evidence of such aspirations at the convention.
The clothes looked raw and were largely made from local material. Some were made from recycled fabrics and second-hand clothing flooding the continent from overseas.
A lot of the costumes were mended, patched, shredded, had holes poked in them and dye spilled over them.
Denim featured prominently as it worked well in creating deconstructed pieces from repurposed garments.
Some of the ensembles incorporated plain black or white cotton material bearing allusion to spiritual practices from its use by apostolic sects and traditional shamans.
Safety pins, brooches, neckties and various other trinkets were frequently appropriated in unusual ways.
The clothes were accessorised with Afro wigs and natural hair, combed out, tied in different styles, and adorned with various symbolic objects such as cowrie shells or link chains.
Others wore their hair cropped short and dyed pink or platinum blond.
Long tresses of synthetic hair did not look out of place either.
Earrings were worn in various ethnic designs and on multiple piercings.
The styles were not restricted to a specific gender as they could be seen on both males and females in the motley crowd.
Fashion at the SS Fabrik Party was not only about design, but also relating to how clothes are assembled in creating a meaningful look that exudes energy.
Chest-baring clothes for men and female outfits exposing a thigh or cleavage are usually deemed too erotic in Zimbabwe's mainstream culture.
In Harare such misconceptions have led to mischaracterisation of the individual's sexual orientation and moral standing, resulting in catcalling, insults, harassment and sexual assault.
The SS Fabrik Party is a platform perfectly suited to help change public perception and liberate fashion as a means of self-expression.
A young woman put a twist on the popular valentine fashion staple of matching red panties and bra by having the brassiere on top of her crisp white shirt.
Instead of down and under, the red lace G-string thong was elevated to a facemask covering the nose and lips, reminiscent of the COVID-19 era.
The rest of the look was composed from thick yarn material and denim, heavily layered into an asexual look devoid of titillation.
Without uttering a syllable, the bold experimental look spoke volumes on the socio-economic and political outlook of the country's young people.
Related Topics
Cop28 live: Guterres calls for talks to agree complete 'phase-out' of fossil fuels as India says coal 'will remain' main energy source – The Guardian
Even as the Narendra Modi, India's prime minister, prepares to travel to the Cop28 summit, a top official in his government insisted coal will remain India's main source of energy for years to come.
"Coal is, and would, remain an important part of India's energy needs," Vinay Mohan Kwatra, India's foreign secretary, told reporters ahead of Modi's trip to Dubai.
India currently depends on coal for almost three-quarters of its electricity generation and is adding 17 gigawatts of coal-based power generation capacity at its fastest pace in recent years to meet a record increase in power demand.
There is hope this year's climate talks will include efforts to secure a global agreement on the phase-out of fossil fuels, of which coal is the dirtiest and most carbon intensive. India and China have been opposing attempts to block construction of new coal-fired power stations, according to Reuters.
Kwatra said India expects a clear roadmap on climate financing at Cop28 and has always been upfront about its support for a "loss-and-damage" fund aimed at helping countries recover from environmental degradation caused by industrial development.
"Loss and damage fund will be of great benefit to developing countries," Reuters quoted him as saying.
Climate justice advocates have condemned the atrocities in Gaza and called for a permanent ceasefire, in the first Palestinian solidarity event of Cop28.
"As human beings, we cannot ignore the absolutely horrendous situation in Gaza. But it is also not a coincidence that the same countries allowing and supporting Israel are the same ones blocking progress on climate action," said Lidy Nacpil, director of the Asian Peoples Movement on Debt and Development and convener of the Cop28 Coalition. "As the whole world gathers here, it is our responsibility to talk about what is happening in Palestine."
The UNFCCC cut off the livestream as Asad Rehman, director of the UK-based organisation War on Want, called for a permanent ceasefire and accountability.
"The Palestinian struggle is woven into every struggle for justice including climate justice," he said. "We want an end to ethnic cleansing, an end to the genocide, an end to war crimes. We want a free Palestine."
The livestream was resumed after the organisers and attendees made a lot of noise.
More than 15,000 Palestinians and 1,400 Israelis have died since 7 October. Israel's bombardment of the Gaza strip since Hamas's cross-border attack has led to widespread food and water shortages, as well as the destruction of agricultural land and water infrastructure. More than 95% of the water in Gaza is unfit for consumption, while water salinisation and treatment plants have been shut down due to fuel shortages imposed by Israel, and in some cases partially destroyed by the bombardment.
"As Indigenous people of the world, we are heartbroken to see the genocide and ecoside in Palestine," said Mesiah Burciaga-Hameed, who read out a statement on behalf of the Indigenous people's caucus. "There is no climate justice without human rights."
"There can be no climate justice on occupied land," said Dylan Hamilton, a 19-year-old climate justice and trans rights activist from Scotland. "The youth stand with Palestine."
The briefing ended with an emotional address from Tariq Luthun, a Palestinian American from Friends of the Earth Palestine, who said denying water to people was a form of collective punishment that has also been used in the US, for example the mass water shutoffs for overdue bills in Detroit and the lead contamination scandal in Flint, Michigan.
"What good is to be found in a green world if the roots are soaked in blood," said Luthum. "I reject the notion that some people have to suffer so that others can prosper."
The event ended with calls of "Viva viva Palestina"
The role that carbon markets will play in helping countries meet their Paris commitments is up for discussion at Cop28, and a series of forest deals made by a little-known member of Dubai's ruling royal family is causing controversy.
Rights to an area of land larger than the size of the UK have been sold off to UAE-based firm Blue Carbon, which is chaired by Sheikh Ahmed Dalmook al-Maktoum. So far, the exploratory deals cover a fifth of Zimbabwe, 10% of Liberia, 10% of Zambia and 8% of Tanzania, amounting to a total area the size of the UK.
In October, Blue Carbon signed its latest deal for "millions" of hectares of forest in Kenya. The company said it was also working on an agreement with Pakistan. More deals are expected in the coming months. Critics have called them a new "scramble for Africa".
Blue Carbon is not alone. Today, Tanzania National Parks – which cares for famous parks like the Serengeti and Kilimanjaro – announced it has signed a deal to turn six protected areas into a 1.8m hectare carbon project, which would make it one of the largest in the world.
The Guardian has looked into the Sheikh's business dealings, with concerns raised about his involvement selling Russian's Sputnik V vaccine, acting as a dealmaker with Ghana, Guyana, Lebanon and Pakistan at lucrative premiums in 2021. One of the listed Blue Carbon advisors is an Italian fugitive.
Read more here:
This is Alan Evans now taking over from Damien Gayle for the rest of the day. You can reach me at alan.evans@theguardian.com, or on X (formerly Twitter) at @itsalanevans.
Our reporters Damian Carrington and Nina Lakhani have sent updates on the food situation on the ground:
If climate summits march, like armies, on their stomachs then Cop28 looks in good shape.

Unlike the first days of the disorganised Cop27 in Egypt, there is actually food. It's mostly vegan too, a nod to the enormous impact meat has on the climate. An avocado, edamame and hummus sandwich was one offering.

It's not all cheap, though. A coffee is $6 (£4.75), more expensive even than most cafes in New York, so delegates without big budgets are coming prepared with packed lunches and thermoses.

Carnivores are catered for though, and it's halal – eg a chicken sausage roll. But it's a clear improvement on the meat feast of Cop24 in Poland, and the beefburger vans of Cop27.
Fossil fuels have turned Indigenous communities into sacrifice zones, endangering their land, water and air and fuelling displacement, one of Cop28's first briefings has been told.
Brenna TwoBears, lead coordinator for the Indigenous Environmental Network in Oregon, was among Indigenous environmental experts who kicked off the first day of Cop28. They pledged their support for a Fossil Fuel Non-Proliferation Treaty and warned of the dangers market-based false solutions posed to Indigenous peoples and the global climate.
TwoBears said:
Indigenous people support the equitable phase out of coal, oil and gas without loopholes used to justify delays and false solutions and tech fixes that allow the fossil fuel regime to continue and grow, and which do not address the climate crisis… this must be accompanied by the fast track adoption of clean energy, a just transition in which no community or country is left behind.
Momentum has been building behind the proposal for the Fossil Fuel Non-Proliferation Treaty, with support from Indigenous organisations and communities facing some of the gravest threats from extreme weather events and slow-onset climate impacts, such as sea level rise and melting glaciers.
Eight nations – Vanuatu, Tuvalu, Tonga, Fiji, the Solomon Islands, Niue, Antigua and Barbuda, and Timor-Leste – have also thrown their weight behind the idea.
Eriel Deranger, executive director of Indigenous Climate Action who is from the Athabasca Chipewyan First Nation, an Arctic community where Canada exploits tar sands, said:
Carbon trading depends on the continued growth of emissions that will create more sacrifice zones. We cannot achieve a just transition without centring climate solutions on Indigenous and human rights.
Keir Starmer, the leader of the UK's opposition Labour party, will have a series of meetings over two days with heads of states, business leaders and being hosted for an international investors roundtable on Friday at the Cop28 climate summit.
Starmer will be joined in Dubai by shadow energy security and net zero secretary, Ed Miliband, and shadow foreign secretary, David Lammy.
He will use the climate summit to emphasise his view that the push to net zero is an economic opportunity, and to say Labour is the only UK party with a plan to pragmatically harness the opportunities of the energy transition.
Starmer aims to draw a dividing line with the Conservative government, noting that prime minister Rishi Sunak was shamed into going to Cop27 and has used the year since to double down on his failures, turning off businesses and investors, failing to cut energy bills and make the UK energy secure. He will aim to get across that the Tories are more interested in sowing political division than facing the biggest challenges of the world.
During his visit to the summit, Starmer will set out some of the planks of an international climate strategy under a Labour government. Earlier this year, Starmer pledged to "throw everything" at net zero and the overhaul of the UK's energy system and industries, promising new jobs in "the race of our lifetime" to a low-carbon future.
"We are living through climate collapse in real time," UN secretary-general António Guterres has told Cop28 delegates in Dubai, writes Guardian environment editor Damian Carrington.
He spoke at the launch of the World Meteorological Organization's stark State of the Climate report, which said 2023 will be the hottest year ever recorded.
"This year has seen communities around the world pounded by fires, floods, and searing temperature – and the impact is devastating," Guterres said. "Record global heating should send shivers down the spines of world leaders. And it should trigger them to act."
The WMO report, timed to inform the negotiations at Cop28, said climate records had been shattered in 2023, leaving "a trail of devastation and despair".
Data up to the end of October showed 2023 was about 1.4C (2.5F) above pre-industrial levels, driven by the continued rise in carbon emissions from fossil fuel burning and by the return of the El Niño climate pattern. The latter is likely to make 2024 another record year, and bring the internationally agreed limit of 1.5C (2.7F) ever nearer.
Sultan Al Jaber has officially opened the Cop28 climate talks in Dubai, after receiving the tiny hammer that is the symbol of his presidency.
Reuters has filed the first report of his opening remarks to delegates, based on a text circulated to journalists. The news agency quotes Al Jaber as saying there were "strong views about the idea of including language on fossil fuels and renewables in the negotiated text … I ask you to work together."
"Colleagues, let history reflect the fact that this is the Presidency that made a bold choice to proactively engage with oil and gas companies," Jaber said. "We had many hard discussions. Let me tell you, it wasn't easy."
Al Jaber noted that many national oil companies had adopted net-zero targets for 2050. "I am grateful that they have stepped up to join this game-changing journey," Jaber said. "But, I must say, it is not enough, and I know that they can do more."
While Sultan Al Jaber says some oil companies have set net zero targets for 2050, those only cover the emissions from producing the oil and gas.
No companies have committed to cutting production of the polluting fuels themselves, which is what scientists are clear is needed.
Indeed, the fossil fuel industry plans to produce double the amount of oil, gas and coal than could be burned while keeping under internationally agreed limits for global heating. And the company with the biggest net-zero busting plans is Adnoc, the UAE's state oil giant, whose CEO is Al Jaber himself.
The tiny hammer has been presented to Sultan Al Jaber, officially transferring to him the presidency of the Cop process.
Even as the Narendra Modi, India's prime minister, prepares to travel to the Cop28 summit, a top official in his government insisted coal will remain India's main source of energy for years to come.
"Coal is, and would, remain an important part of India's energy needs," Vinay Mohan Kwatra, India's foreign secretary, told reporters ahead of Modi's trip to Dubai.
India currently depends on coal for almost three-quarters of its electricity generation and is adding 17 gigawatts of coal-based power generation capacity at its fastest pace in recent years to meet a record increase in power demand.
There is hope this year's climate talks will include efforts to secure a global agreement on the phase-out of fossil fuels, of which coal is the dirtiest and most carbon intensive. India and China have been opposing attempts to block construction of new coal-fired power stations, according to Reuters.
Kwatra said India expects a clear roadmap on climate financing at Cop28 and has always been upfront about its support for a "loss-and-damage" fund aimed at helping countries recover from environmental degradation caused by industrial development.
"Loss and damage fund will be of great benefit to developing countries," Reuters quoted him as saying.
Delegates are just beginning to find their way around the Cop28 climate talks venue this morning. My environment desk colleague Nina Lakhani is there and sent this dispatch on what it looks like around Expo City in Abu Dhabi.
It's day one and the sprawling Expo venue is beginning to fill up with delegates, diplomats and activists from more than 180 countries, and among them are serious fashionistas bringing some style to the tense and formal negotiations.

Forget fashion week, the climate summit is both the place to see international clothing trends – and get to know the traditional dress of countries, communities and Indigenous territories that you've never visited.

From beaded hijabs, silk saris and brilliant white dishdashas to Mayan huipiles, Amazonian headdresses, and west African Ankara wax fabrics, getting to hang out with people from every corner of the planet is one of the highlights of Cop.

Worst dressed group? The media, without doubt, though some of our colleagues from Africa, Latin America and Asia make a lot more effort than us comfort seekers.

English may be the main negotiating language, wait in line for coffee or the bathroom, and you'll hear a glorious array of languages and dialects. It's outside the formal negotiations that the power of collaboration and grassroots community building comes into its own. There's a lot not to like about Cop but the diversity and relationship building is a beautiful thing.
Greenpeace has a message for African leaders heading to Cop28 today: "Stop False Solutions".
Delegates at Cop28 are hoping to achieve an early victory on a disaster fund on Thursday before the summit turns its attention to more contentious areas, such as the future of fossil fuels, Reuters is reporting.
The news agency says diplomats are hoping a draft deal on a loss and damage fund can be approved quickly at the start of the climate talks. The United Arab Emirates' Cop28 presidency has already published a proposal for such a fund.
Once an agreement is reached, rich countries can begin pledging money. Nations including Germany, Denmark and the Netherlands are expected to announce contributions over the next few days, European diplomats told Reuters.
"Everyone with the ability to pay should contribute," said the EU climate commissioner, Wopke Hoekstra, who said he wanted to "broaden the donor base beyond the usual suspects, simply because that reflects the reality of 2023."
With governments preparing for long, tough negotiations on whether to agree to phase out coal, oil and gas, the main sources of carbon emissions, it is hoped an early win on loss and damage will pave the way for further compromises later on.
Extinction Rebellion, the climate activist campaign, has issued a downbeat assessment of what we can expect from Cop28.
Some five years after they began their campaign for action on climate breakdown with their "declaration of rebellion" outside the UK parliament, XR says we have woken up to a world that "is as bad, if not worse than we predicted five years ago", with 2023 set to be classified the hottest year on record.
In this context … we are once again seeing world leaders fly, on their private jets, to the next conference of the parties (Cop) on climate, Cop28. The conference will take place in Dubai in the United Arab Emirates, a nation built almost entirely on fossil fuel wealth. Cop28 is led by Dr Sultan Ahmed Al Jaber, founder and chair of Abu Dhabi National Oil Company (Adnoc). which has the largest net-zero busting plans in the world.

Before it has even begun, it is clear the Cop process has been captured by the fossil fuel economy. We are unlikely to see the rapid, just and equitable phaseout of all fossil fuels coming out of this process.
And yet XR says it will not simply ignore the talks at Cop, and it has issued calls for a number of outcomes it wants to see, including the honouring of climate finance grants, the urgent establishment of a loss and damage fund, debt cancellation and a fast, fair process.
To ignore Cop is to display our minority world arrogance and play into the hands of the system we are trying to fix. Those in power have designed Cop to their advantage — of course they want us to ignore it. Many majority world countries have no choice but to work with the United Nations (UN) because it is the only space that comes close to global democracy in which their voices have a presence.

The G77 will be there, and in Brazil, President Lula is calling for an Amazon Cop in 2030; many movements come to Cop trying to push for justice.

So XRUK's position is: Yes, Cop28 is not good enough, but it's all we've got.
The trade union representing the leaders of schools in the England, Wales and Northern Ireland has said it is "deeply concerned" at climate crisis and the impact it is having on pupils, education workers and communities across the world.
As part of a submission to the Cop28 climate talks by UK trade unions, the National Association of Head Teachers (NAHT) called for governments "to prioritise their actions before it is too late", pointing out that extreme climate events are disrupting the education of nearly 40 million children a year worldwide.
Helena Macormac, the NAHT's international secretary, said:
It is vital that decisive and substantial collective international actions are taken as a matter of urgency – the future of our children and young people is at stake.

The UK government has said that tackling climate change and biodiversity loss is its number one international priority, yet the lack of investment and sustained joined up policy on this area would lead us to believe that this is not the case. Climate change is already having detrimental effect to education working conditions in the UK, with decades of state neglect of school buildings and classrooms not fit for purpose in extreme weather events. We are also already seeing an increase in 'climate refugees' and displaced pupils impacting on school communities.

It is vital that the pupil voice is heard within the climate crisis debate, and that they are able to access climate education – it is they that will pioneer the necessary solutions to the climate crisis. Governments must realise the integral role that pupils, school leaders and education providers play in tackling climate change, and work to deliver a 'just transition' for the future.
2023 Journal Article List – Contingent Magazine
---
The Epistle of Jude has been examined by biblical scholars for a variety of reasons in recent decades, but one still underexplored interpretative avenue is Jude's treatment of enslavement. In this article, I argue that Jude pulls from the same conceptual toolbox as many other texts of the Roman republican and imperial eras in its depiction of believers as enslaved people (δοῦλοι) and Jesus as an enslaver (κύριος; δɛσπότης). After placing these three terms in the context of ancient enslavement, I offer three examples of Jude's participation in a broader discourse of enslavement: (1) the importance of loyalty and disloyalty to Jesus the κύριος; (2) the capability of the enslaver to harm and control the bodies of the enslaved, and (3) the presumption of the benevolence of the κύριος in offering mercy. This reading of Jude highlights how deeply embedded even a short New Testament text can be in the vocabulary, stereotypes, and normalization of violence of Roman enslavement.
This article argues that John Chrysostom's Homily against the Jews (Adv. Iud. 8), preached at Antioch in 387 ce, is produced as a response to the popularity of Antiochene Jewish healers among John's congregants. As a solution to the perceived problem of Christians seeking out Jewish healing, John develops a model of anti-medicinal martyrdom by which he calls congregants to seek out death by fever. The article is split into three sections. The first section situates the argument amidst recent scholarship on Antiochene space, religious affiliation and ambiguity, and John's rhetorical strategies. The second situates John's anxiety regarding the religious ambiguity of amulets and other medicinal practices alongside late ancient Antiochene material culture. The final section provides a close reading of Adv. Iud. 8 that underscores how John uses biblical exempla to produce his model of anti-medicinal martyrdom.
To date, the colonial links between Scottish music from the long eighteenth century and the burgeoning British Empire have not been analysed. Colonial elements and links have occasionally been noted, but their impact and implications have not been examined in detail. This article seeks to open this topic up to further investigation. The evidence presented here is only the beginnings of a detailed survey of this issue, and so does not focus on any one source type. Instead, it takes a variety of sources from the later eighteenth and early nineteenth centuries to piece together a suggestive picture that requires further work, in order to fully understand this issue.
Through examinations of domestic servants in electrical advertisements and writings this article looks at the imaginations and realities of visions of an "Electrical Calcutta" at the turn of the twentieth century. It argues that the diverse conceptions of an "Electrical Calcutta" were intimately linked to not just the technological and mechanical benefits of electrical technologies, but also the centrality of servants to societal notions of morality, class and social hierarchy, and cultures and discourses of human bodies, labour and energy within the domestic sphere.
London, British Library Additional MS 39564 is an anonymous collection of English lessons for the two-hand sword, tentatively dated to the first quarter of the sixteenth century. This manuscript is peculiar in several ways, aside from it being one of only three such texts known to scholars. This paper discusses two aspects of this manuscript that speak to its origins and its survival in its present form. The lessons appear to be out of order and while there is no challenge in rearranging them in a logical fashion, this paper explains why that disorder tells us that Add. MS 39564 is a copy made from loose bi-folds from a now lost exemplar. This also explains the placement of the 'Amen Quod J Ledall' formula between lessons, rather than at the end of the text (where such an attribution is traditionally placed). Finally, this paper explains the significance of that attribution, suggesting it does not identify an original composer or user of the text, only the name of the scribe who produced the unbound sheets that acted as the exemplar for our surviving text. Both of these points remind us that these texts were part of a complicated community of composers, scribes, and readers and that the path of survival is often indirect and meandering.
This chapter traces the development of racial thought in the German Enlightenment, looking at Christoph Meiners's Outline of the History of Humanity, a work primarily concerned with his profoundly hierarchical theory of human racial difference. First presented in the Outline, Meiners claimed that humanity is divided into various races, each unequal in moral, physical, and intellectual characteristics. He defended racial slavery, opposed Jewish civic emancipation, and advocated unrestricted European world domination. Investigating Meiners's position as professor at the Georgia Augusta University of Göttingen sheds important light on the complex relationships between texts, ideas, and institutions in the German Enlightenment. The chapter then draws inferences about Meiners's expectations for the impact of his racial theory, the empirical limitations to understanding his work as a whole, and the discursive development of racial thought across the period.
In 1988, the Australian federal government purchased Anglo-Australian artist Dora Meeson Coates's "Trust the Women" banner as part of the country's belated efforts to memorialize the suffrage victories that once made its White citizens the most enfranchised people on earth. However, between the fin de siècle and the 1970s, which witnessed the concurrent rise of women's history and state feminism, feminists had been ambivalent about commemorating the suffrage campaigns, especially at the national level. Since the late 1980s, the banner has experienced a transformation from an artefact few Australians had known about, much less forgotten, into the most familiar symbol of the country's suffrage movements. Brought about by memory agents—activists, bureaucrats, historians, and politicians—this shift reveals the public appeal of British suffrage iconography over the material record of Australian activists' "quiet" toil, a sentiment which has increasingly shaped the memorialization of local suffrage stories.
This article recovers the role of Noel Mukono in Zimbabwe's liberation struggle. The defence chief of the Zimbabwe African National Union (ZANU) from 1964 to 1973, his pioneering role in instigating the armed struggle against the white settler government in Rhodesia is largely overlooked today. Mukono is a leading casualty of 'patriotic history', the contemporary Zimbabwean state's manipulation of the independence struggle narrative. A journalist, Mukono left behind an unfinished memoir and personal papers which facilitate a deep examination of his political engagements. This material highlights Mukono's status as a transnational revolutionary, instrumental in the internationalisation of Zimbabwe's independence struggle. Through Mukono's personal journey, this account explores transnational networks linking Zimbabwean nationalism with Zambia, the United Kingdom, Malawi, and Ghana. It provides new information regarding the extent of ZANU's collaboration with the Mozambican nationalist movement, Frelimo. Finally, Mukono's case illuminates an enigmatic period of ZANU infighting in exile which saw the Nhari Mutiny and assassination of Herbert Chitepo, the party's National Chair. During this time, his globetrotting lifestyle was strategically used against him.
This study explores the life of Flora Lee, an enslaved Massachusetts woman, who had her daughter spirited away from her during the Revolution. Lee's efforts to be reunited with her daughter in Nova Scotia, and to protect other vulnerable Black children, highlight enslaved women's resistance to their family's enslavement during the Revolutionary Era.
Over the course of the Progressive Era, revised scientific accounts of the connections between dust, germs, and disease recast debates over public health. The American School of Home Economics and other institutions affiliated with the emerging subfield of household bacteriology regarded detecting and eliminating pathogens as necessary means to achieve safer homes and communities. Although several historians have attributed the rise of early twentieth-century technocracy and the decline of grassroots health activism to germ theory, household bacteriology complicates this standard narrative. Educators like Sophronia Maria Elliott (1854–1942) rejected the command-and-control tactics of the "new" public health and instead instructed women how to culture microorganisms and to measure the risks of infection within their surrounding environments using kitchen experiments. Household bacteriologists aspired to train "sanitary citizens" with the right and the duty to test for germs with everyday equipment, to prevent disease with effective housekeeping, and to advocate for policies and infrastructure to keep society well.
Eliminating and easing pain in childbirth has long been considered a major obstetric achievement. But what about the ability to control the uterus and when childbirth happens? Why have augmentation and induction drugs not been central to historical analysis of medicalization of childbirth in the United States? Our understanding of how birth became medicalized is complicated when augmentation drugs are the central analytical lens. At the turn of the twentieth century, the emerging field of endocrinology and hormone-based therapies influenced the growing authority and professionalization of medicine and introduced the chemical manipulation of childbirth. This article explores two main points: first, the development of chemical interventions, like ergot and oxytocin, used to start and hasten labor; and second, how different drug categories pushed the boundaries of what was and was not "natural." These drugs were valuable tools that helped solve public health concerns of maternal and fetal health outcomes, further entrenched women's reliance on male physicians, and illustrate the complexities of how childbirth became a medical event in the United States.
Building on the latest literature on transimperial mobilities, this article analyses the career of the Finland-Swedish Hjalmar Björling, a merchant and colonial careerist who moved out to the Dutch East Indies around 1870, later also working in assorted roles on the coast of China and in Sumatra's then-developing plantation economy. He was also an active writer, relaying colonial news and market intelligence as well as accounts of his personal experiences in various Finnish newspapers. This article examines the global, cross-border structures that facilitated Björling's migration to Southeast Asia and his integration there, arguing that his colonial career sketched out the contours of a pre-existing transnational and specifically Nordic subcircuit of Western imperialism that straddled the boundaries of the Dutch and British empires. Moreover, through his correspondences and ventures, Björling sought to establish himself as an active node in that network connecting northern Europe and maritime Asia. The article argues that a careful consideration of 'outsider' experiences like Björling's challenges conventional, nation-centric understandings of nineteenth-century European empires and helps to uncover the multi-layered systems of mobilities that underpinned their expansion around the world.
Throughout the post-Civil War era, Black soldiers in the U.S. Army were at the vanguard of U.S. expansion in the U.S. West. Rather than focusing solely on their official military duties however, this article examines Black troops' off-duty activities, specifically the complex economic and social ties they developed with civilians who resided near the posts they garrisoned in the U.S.-Mexico borderlands. In many cases, these connections transcended the very geographic, racial, and ethnic boundaries that Black soldiers were charged with policing, illustrating that relationships between local people and agents of the U.S. government in the region were more complex than scholars have previously acknowledged. Relying on transcripts from U.S. Army general courts-martial proceedings, this article demonstrates how these interactions shaped Black enlisted men's perceptions of themselves, army life, and the locales they policed and inhabited. These interactions between Black soldiers and local people often undermined the Army's official missions, but they allowed Black troops to improve the quality of their lives and demonstrate the persistent fluidity and porousness of the southwest borderlands.
In 1804, the Irish convict-turned-surveyor James Meehan drafted a map (Monmouth 0) of the area around Britain's new settlement in the colony of Van Diemen's Land (Tasmania, Australia). This map describes the terrain and vegetation and guided decision-making by the colonial government for the first few years of the colony's existence. Despite its importance, it was neither copied nor distributed further than the immediate land it described. For the first time, it has been fully transcribed so that we might examine the fine details. This article argues that despite remaining as a manuscript map, Monmouth 0 is a perfect demonstration of British colonial land management policy as it directed the colonial effort to make their presence permanent on the island of Van Diemen's Land.
Mtamangira challenges filmmakers – NewsDay
Mtamangira (in yellow outfit) is popular for talk shows on which she gives the audience and filmmakers adequate opportunities to explore her imaginative capacity.
AWARD-WINNING fashion designer, filmmaker and television personality Nyasha Mtamangira has challenged filmmakers to be at the top of their game to win the hearts of audiences.
Mtamangira is popular for talk shows on which she gives the audience and filmmakers adequate opportunities to explore her imaginative capacity.
In an interview with NewsDay Life & Style soon after the Euro Film Festival capacitation workshops at Ster Kinekor in Bulawayo, Mtamangira said she embraced a culture of integrity and commitment to perfection through emulating local icon Rebecca Chisamba and the globally acclaimed Oprah Winfrey.
"In addition to mastering their content, presentations for filmmaking and documentaries should be information laden in an entertaining and captivating way. Presenters should always dress to best fit the occasion while they deliver accurate content in a way that draws listenership to their programmes," she said.
"The audience are very sensitive to anything that is in contempt of their precious time reserved for entertainment and relaxation."
Mtamangira noted that Winfrey owes her success to being consistent and assembling teams that drive stories to audience's satisfaction.
"Delivery is the most important thing and look at the subject or person inside out and bring the script alive. Presentation and delivery are the most important things," she said.
Mtamangira said Zimbabwe has abundant talent in filmmaking, acting and presentation and if resources were available, every local community could nurture its idols.
"The Euro Film Festival short film competitions have a level ground and entries can be received from any part of the world and therefore making the contest of universal repute. I am against the idea of regionalising the competition because people must think locally with a universal mindset," she said.
"People can work from wherever they are. There is a lot of creativity in Zimbabwe. Winners are selected based on their best input and finishes of their film products."
She pointed out that being selected to be one of the workshop facilitators was a result of her consistency in the film and television industry, including her active role in fashion and design, which to a greater extent popularised her programmes.
"I have managed to be consistent in the industry and at the same time got to be known as a fashion brand. I encourage my fellow filmmakers to build empires out of their earnings from the film industry. As a perfect example, Winfrey has investments born out of her tremendous work as a film and television personality," the filmmaker said.
Mtamangira noted with concern that there has been very limited resourcing of the film industry.
She hinted that building good and adorable personalities can help in luring the corporate world to accept the arts as an effective means for raising product mindfulness and advertising in general.
"Arts industry offers diverse solutions to business prosperity and viability only when both parties co-operate."
Related Topics