New academic year, new faces on campus – Central Michigan University
After a second consecutive year of increases in new student enrollment, thousands of fresh faces experienced #LifeAtCentral last week as they attended classes, explored registered student organizations, met with mentors and much more. After events such as IMPACT, Leadership Safari, MainStage and Get Acquainted Day, the newest CMU Chippewas are sharing their experiences with faculty, staff and classmates and enriching the university on campus and online. 
The facts behind the new faces
Jennifer DeHaemers, vice president of student recruitment and enrollment, said CMU's new student enrollment growth came despite increased competition from peer institutions, including some that lowered their academic criteria this year, and despite Michigan's population declines, including among high school graduates. 
Included in this year's new student enrollment, both on campus and online, are 2,044 new First Time In Any College (freshman or first-year) students, 921 new transfer students and 1,238 graduate students. More than 88% of both the new first-year and new transfer students come from Michigan. 
Among them, about 17% of first-year students and about 23% of transfer students are first-generation students, the first in their families to attend a college. And they are high academic achievers — the average GPA among first-year students is 3.51.
CMU's newest students also come from around the world. This year, CMU has its largest number of international students, both undergraduate and graduate, in a decade: 1,734 students representing 70 countries.
DeHaemers said online enrollment will grow again slightly later in the fall as students enroll for the second fall session of Innovation and Online programs. Final, official numbers for fall enrollment will be released after the semester by CMU's Office of Academic Planning and Analysis.
Why new students chose CMU
Students regularly include "improved career outcomes" as one of their main reasons to pursue higher education, DeHaemers said. For those students, CMU's focus on hands-on, experiential learning and career readiness are compelling reasons to apply. 
It also helps that CMU students are graduating into great jobs, DeHaemers said. According to its most recent First Destination Survey, CMU shows that nearly 94% of graduates are gainfully employed, engaged in volunteer service programs or pursuing additional education within 6 months of graduation. 
A primary component of career readiness is the scholarly and creative work students can dig into from their first day at CMU, DeHaemers said. 
"Faculty at CMU are engaging students in their research and creative activity as early as the first weeks of class," she said. "Our undergraduate students are engaging in work at CMU that is usually limited to graduate students."
DeHaemers said students also regularly mention the warm, welcoming campus community as a primary reason for choosing CMU. 
"CMU is a community where they will be more than a face in the crowd," she said. "These students know they will get to know their faculty members and receive support from their classmates and peers. They know they will find mentors who will encourage them on their academic journey."
In their own words: New student stories
The new students come from communities in Michigan, around the region and throughout the world, bringing a wide range of perspectives and experiences to enrich the university community. They are future health care and business professionals, teachers and athletic trainers, engineers and ecologists. They are Fired Up and ready to make a difference on CMU's campus and in the communities they call home.
Name: Jazlyn Coles 
Class year: First-year student 
Hometown: Metro Detroit, Michigan 
Academic interests: Entrepreneurship, leadership and management 
Published author. Award-winning poet. Accomplished motivational speaker. Budding entrepreneur. Before stepping foot on campus at CMU, Jazlyn Coles already had an impressive professional bio. Now, she's ready to add more to it. 
A self-described overachiever with high aspirations, Coles attended Ferndale High School and, at just 15 years old, began taking college courses at Oakland Community College. Knowing she wanted to earn a four-year degree, she pushed hard to earn the highest grades in every class, so she'd be eligible for lots of scholarships. And, as valedictorian of her high school and with an associate degree already in hand, Coles had many options to choose from.  
When she was invited to CMU to participate in the Leader Advancement Scholarship competition, Coles realized she'd found her place. It started with hearing from Leadership Institute Director Dan Gaken. 
"He was such a great speaker – I was taking notes while he was speaking,' she said. "I cried. It was the first time that I just knew 'I am meant to be here.'" 
Gaken not only inspired her, but he also provided a first on-campus step to pursue her goal of becoming an international motivational speaker focused on self-empowerment and self-worth. 
He invited her to speak at Leadership Safari, opening for nationally recognized guest speaker and poet Ebony Stewart. 
"It was the biggest crowd I'd ever spoken to," she said. "It was exciting and empowering, it was amazing." 
Since then, Coles has found several places to continue to build her professional profile. She connected with the Isabella Bank Institute for Entrepreneurship and plans to participate in the New Venture Challenge; she hopes it will help her learn how to market her upcoming book, "Elegantly In-Tuned." 
She also plans on starting a new registered student organization focused on poetry and volunteer service. As a first-generation college student and someone accustomed to being the youngest person in the room, Coles believes she has a vital role to play in helping other college students find their voice and feel empowered to make a difference in the world.
"I want to inspire people, to help them know they are not alone, and to know that even if they are young, they can still be leaders," she said. "Poetry is a way we can find connection and be in community together." 
Name: Kyle Kieser 
Class year: third-year transfer student 
Hometown: Auburn, Michigan 
Academic interest: Electrical Engineering 
At just six years old, Kyle Kieser discovered the wonderful world of taking things apart and figuring out how to put them back together better. As he enhanced and improved his Nerf toys, he was test-driving a career in engineering. 
By junior high and high school, he was building mechanical hands and developing a first-of-its-kind air hockey pinball game with his friends. Years later, Kieser continued down the engineering path at Delta College, where he earned a full-tuition scholarship, participated in the Phi Theta Kappa honors society, and was a member of the college honors program. 
He was a top scholar and presenter in the Liberal Arts Network for Development (LAND) Student Scholars Competition; his project was a unique cellphone app designer to help young students discover STEM and explore careers in engineering. 
"My favorite part of the app was the quiz feature that would let them answer questions and it would recommend an engineering field," he said. "I did a lot of research on it. I felt like we could get this information in front of kids earlier and help them get excited about STEM." 
During his sophomore year, Kieser landed a co-op position at Nexteer Automotive working on a solution to reduce the time it took to complete a quality assurance process. When it was time to choose a college, CMU was Kieser's first choice after touring the engineering department.
"The same robots they used on the line in my co-op are used in the labs here," he said. "There was a direct connection for me – I wanted to be in that class, I wanted to play with those robotics. It was a no-brainer; it is exactly what I want to do." 
His sister had shared lots of remarkable stories about her experiences on campus, but it was seeing how happy she was on campus and how personal President Davies made her commencement ceremony that made Kieser think he could find a home here, too. 
Beyond feeling comfortable on campus, Kieser is also excited about all the opportunities to get involved in professional organizations and clubs that will connect him with people and activities in his field of interest. 
"There is so much to do here – there are multiple clubs even just for electrical engineering," he said. "I want to do everything."
Name: Ruvarashe Musasiwa
Class year: First-year student
Hometown: Harare, Zimbabwe
Academic interests: STEM, pre-medical studies
In 2019, Ruvarashe Musasiwa watched as physicians in her hometown of Harare, Zimbabwe, went on strike, leaving hospitals empty of doctors who could have saved her father's life. The devastating incident left her with a singular goal: Medical school.
Musasiwa's interests already aligned well with pre-medical studies — she loved chemistry and math and was excelling in classes like biology and statistics. The decision to pursue health care brought all her passions together and pointed her to colleges in the United States.
"When I was looking at schools to go to, even though I don't know what I want to major in yet, I loved the versatility at CMU in terms of STEM subjects," she said. "I love math and statistics and chemistry with my whole heart, but I also am looking at computer science as well and biomedical. I love what CMU had to offer."
She began following CMU on YouTube and other social media channels and was moved by the videos' focus on being a welcoming community.
"I loved how the Mount Pleasant community was centered around Central Michigan, and I love the sense of community. When I was exploring, everyone was so open to my asking questions," she said. "I just felt a sense of belonging and I fit in."
Musasiwa chose to live in the Science and Engineering Residential College and has already made friends in her hall that she sees regularly in class. She has also connected with several faculty members both inside and outside her program.
"At the international student welcome meal, some of the professors actually came up to us and greeted us," she said. "Before I even started school, I had a sense that I could go to anyone and not worry. One professor even came up to me and gave me her business card and told me I could contact her at any time."
In her first semester on campus, Musasiwa is focusing on registered student organizations centered on pre-medical studies. Eventually, she would like to join some other groups and even play a little field hockey.
"My goal is to make the most of this opportunity I have been given," she said. "My family has made sacrifices for me to be here, and not everyone gets a chance like this to study abroad. It is a lot of pressure, but it is also very exciting." 
Name: Jaclyn Serazio
Class year: First-year student
Hometown: Livonia, Michigan
Academic interests: Marketing and logistics
Jaclyn Serazio's friends always ask her for help editing photos and writing captions for their social media posts, and she loves using the online channels to find and share stories. She's known for a while that social media marketing was something she wanted to pursue, and she's known for a while that she'd make the journey to that career at CMU.
"It's one of the best business schools in the state," she said. "How could you not love it here?" 
After being highly involved in high school — as a senator in student government, varsity cheerleader, National Honor Society member and more —Serazio knew it was important to find a college campus where she'd be able to be just as engaged.
"There is something for everyone at CMU. There are so many opportunities, even just within the business school with all its registered student organizations," she said. "And everyone is so excited to share their interests with you."
Serazio attended Leadership Safari and learned more about clubs and RSOs at MainStage. She has already joined the Supply Chain Management Association and plans to attend meetings for the Society of Women in Business. She is also looking forward to joining a sorority.
She had heard plenty about the opportunities at Central from her family. Her father and sister are both CMU graduates, and her older brother is currently in his senior year. However, Serazio knew she had to make a decision about college based on what would suit her needs best.
Visits to campus, including a tour of Grawn Hall, and attending one of the Maroon and Gold events hosted by CMU admissions sealed the deal for her.
"Whenever I came to visit, there were always friendly faces. Whenever I talked to faculty members, they made me feel like they had known me for a lifetime," she said. "CMU had everything that big universities have but was small enough to feel like home."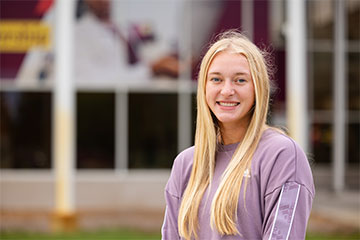 Taylor Griffith
Class year: Graduate
Hometown: Grand Rapids, Michigan
Academic interest: Athletic Training
Taylor Griffith loves everything about sports — playing them, participating in competitions and spending time with athletes. She knew she wanted a profession that would let her focus on those passions – she didn't know it would be an injury that would introduce her to the right career path.
After tearing her ACL during her senior year, Griffith worked with an athletic trainer who helped her recover from her injury and get back on the field with her softball team.
"I learned a lot during that time and realized that athletic training fit what I envisioned myself doing in the future," she said. "I knew I wanted to pursue a profession that allowed me to work with and give back to the athletic community."
After earning her undergraduate degree at a small private college, Griffith was ready to explore master's degree programs in athletic training. Her undergraduate advisor connected Griffith with Dr. Blaine Long in CMU's athletic training department.
"I knew that CMU was going to be the right place for me after my in-person meeting with Dr. Long because I learned so many additional things about the program," she said. "I really liked how CMU's MSAT would allow me to get clinical experience in both the traditional and non-traditional settings so that I could not only learn what I enjoyed doing the most but also learn in each of the different fields."
She also loved the campus at CMU – slightly larger than the private college she'd attended for undergraduate, but still a place where she'd get to work closely with faculty who would push her and shape her to do her best.
"The faculty and preceptors have been so helpful and always want to help you learn. I feel like the courses are set up to push you out of your comfort zone and to work hard but allow you to be the most prepared for your clinical field experiences."
Griffith hopes to begin her career working with athletes at the collegiate level.
"I love that in athletic training you have the opportunity to understand and get to know your patients on a deeper level," she said. "Often times, you are with a patient from the time they get injured, through the rehabilitation process and then proceed to watch them return to their sport healthy again. It's a very rewarding experience."
Who is Harpal Randhawa, Indian billionaire who died in Zimbabwe plane crash? Here's all you need to know – India TV News
Indian mining tycoon Harpal Randhawa and his son were among the six individuals killed on September 29 when their private plane, Cessna-206, crashed near a diamond mine in southwestern Zimbabwe following a technical glitch.
Randhawa was the owner of RioZim, a diversified mining company producing gold and coal as well as refining nickel and copper. The plane that crashed was also owned by RioZim and was bound towards the Murowa diamond from Harare.
The plane experienced a technical fault, possibly resulting in a mid-air explosion, before plummeting into Peter Farm in the Zvamahande region. Confirming the crash, a statement from RioZim read, "The Murowa Diamond Company (RioZim)-owned white and red Zcam aircraft had left Harare for the mine at 6 am and crashed about 6km from Mashava."
Who is Harpal Randhawa?
The 60-year-old Randhawa was the founder of private equity firm GEM Holdings worth $4 billion. He had vast gold, diamond and coal mining interests in Zimbabwe and was a prominent figure in the country.
According to his LinkedIn profile, Randhawa has served as the chairman of the GEM group for 30 years after its formation in July 1993. Aside from that, he was a partner at Sabre Capital Worldwide for 12 years and a senior adviser at the real estate firm Safanad for three years.
Randhawa completed his education at the Institute of Chartered Accountants in England and Wales (ICAEW) and the University of London. As per reports, he was planning his next business venture. His wife's name has not been revealed yet.
The billionaire's son, 22-year-old Amer Kabir Singh Randhawa, is a trained pilot, who also died in the tragic accident on Friday. The names of the other deceased passengers are yet to be released by police.
Reactions to Randhawa's death
Although the names of the deceased passengers are yet unknown, journalist and filmmaker Hopewell Chinono, who was a friend of Randhawa, confirmed the deaths of Randhawa and his son.
"I am deeply saddened by the passing of Harpal Randhawa, the owner of RioZim who died today in a plane crash in Zvishavane. Five other people including his son, who was also a pilot but a passenger on this flight, also died in the crash," wrote Chinono on X.
"My thoughts are with his wife, family, friends and the RioZim community." The RioZim company secretary said a full statement will be issued. "I am not in a position to address the media right now. We will however be issuing a statement as soon as possible," he said.
Many people expressed grief and condolences over Randhawa's death on social media. Meanwhile, the local community and law enforcement agencies are working together to manage the aftermath of the plane crash.
(with agency inputs)
ALSO READ | Indian mining tycoon, Harpal Randhawa, his son among six killed in plane crash in Zimbabwe
Fraud-accused Zimstat boss granted US$200 bail
By Staff Reporter
---
Zimbabwe National Statistics Agency (ZimStat) Director General, Taguma Mahonde has been granted US$200 bail by Harare magistrate, Marewanazvo Gofa following his arrest last week.
Mahonde is facing fraud allegations with prosecution alleging that he abused his powers to get away with crimes he committed at his workplace.
He is facing another charge of contravening the Prevention of Corruption Act and an alternative charge of obstruction of justice.
The magistrate said it was his right to be granted bail.
During the bail hearing Investigating Officer, Eric Chacha said Mahonde would threaten ZACC's witnesses into silence or hiding if granted bail.
"The degree of interference is so severe to the extent that the accused found some tactics and used his position as the Director General of ZimStats to fire the witness (Matiza) from work. Realizing that Matiza was working with ZACC, he found some dubious charges and caused the witness to be suspended."
Chacha said after firing Matiza, Mahonde allegedly called him threatening to "deal" with him.
It is alleged that he said, "I will get bail like what the NSSA boss and the clerk of Parliament did and once I'm back at work I will deal with you accordingly."
Chacha said if Mahonde is released, he might go back to his workplace and continue to intimidate his subordinates and they will not assist ZACC.
"You could even tell during the interviews of the subordinates that they were being interviewed under threat and fear as they were always saying that they would be facing the challenges Matiza is going through. They are afraid of the accused." Chacha said.
Mahonde is accused of squandering Zimstat US$4 000 by claiming school fees allowance for a non-existent child.
It is further alleged that when ZACC's investigations into his alleged corruption started in March this year, he tried to cover up his offense by refunding ZW$756 047.33 but it amounted to US$826 as he had used the interbank rate of $915.
ZB Bank heist: Four acquitted to be reimbursed forfeited funds
By Staff Reporter
---
FOUR suspects who were acquitted in the ZB Bank money heist case which made headlines two years ago will have their forfeited money reimbursed.
The four are Trymore Chapfikwa, Tozivepi Chirara, Dennis Madondo and Tatenda Gadzikwa.
They filed an application for disposal before Harare magistrate, Clever Tsikwa ruled there was "no justification for the State to keep the money when there is no longer a case against the four."
The amount to be reimbursed was not mentioned.
The prosecution had protested the release of the funds arguing that there was no evidence to prove that seized money did not belong to the bank.
"The cash before this court as an exhibit cannot be lawfully possessed by the applicants.
"They did not provide proof of the source of their ownership. In this inquiry of whether an exhibit can be claimed by an accused, the accused has an onus to show that they are entitled to the money." said prosecutor Loveit Muringwa.
The four were jointly charged with Shadreck Njowa, Tendai Zuze and Neverson Mwamuka who were convicted on Friday.
Njowa, Zuze and Mwamuka await their sentencing on Wednesday.
Prosecutors proved Njowa the kingpin of the heist and had been hiding in South Africa before coming back into the country in November 2022 assuming the dust had settled.
Njowa and his accomplices robbed US$2,7m and ZW$43 090 that was in the commercial bank's transit truck headed for seven branches across the country in January 2021.
The security crew and the gang then staged the robbery along the Harare-Chinhoyi highway just after Nyabira Business Centre.
They had reportedly armed themselves with pistols, knives, and three vehicles which they used to carry the cash in transit.
One of the guards, Fanuel Musakwa, transporting the money was in contact with the heist crew.
Court heard the guard requested the driver to pick up some of the accomplices as passengers before they stole the money.
Meanwhile, prosecutor Muringwa has submitted the State's aggravation urging the court to impose a harsher sentence for the convicted trio.
"The crime had a negative economic impact on the complainant and resulted in reasonable material or economic loss.
"The complainant is in the banking business, the loss of such vast amounts of money certainly had a negative impact on their business as income was lost because of the lack of cash that could have been circulated to its clients earning it the much-needed interest. Wherefore the State prays that the accused be heavily sentenced of the charged offense of robbery as aggravation factors outweigh the mitigatory factors," he said.
The three will submit their mitigation Tuesday.