Today's news: Trending business stories for November 20, 2023 – Financial Post
The latest business news as it happens
Article content
Top headlines
Article content
---
12:21 p.m.
Midday markets: Base metal stocks help lead broad-based rally as TSX moves higher
Article content

Strength in the base metal stocks helped lead a broad-based rally as Canada's main stock index moved higher in late-morning trading, while U.S. stock markets also rose.
The S&P/TSX composite index was up 58.08 points at 20,233.85.
In New York, the Dow Jones industrial average was up 80.56 points at 35,027.84. The S&P 500 index was up 19.07 points at 4,533.09, while the Nasdaq composite was up 107.08 points at 14,232.56.
The Canadian dollar traded for 72.84 cents U.S. compared with 72.88 cents U.S. on Friday.
The January crude contract was up US$2.02 at US$78.06 per barrel and the December natural gas contract was down four cents at US$2.92 per mmBTU.
The December gold contract was down US$9.50 at US$1,975.20 an ounce and the December copper contract was up six cents at US$3.80 a pound.
The Canadian Press
---
10:30
Markets open: Traders watch huge U.S. bond sale as rates grip markets
The world's biggest bond market's surge toward its best month since March lost traction on Monday, with traders gearing up for a US$16 billion sale of 20-year Treasuries.
Wall Street continued to keep a close eye on government debt auctions, especially after the United States had to offer an unusually large premium to sell 30-year securities. A strong reception would be an endorsement of the rally. And vice versa. Those sales have also been exerting a growing sway over stocks, underscoring how the path of interest rates is gripping markets of late.
Article content
Ten-year U.S. yields rose, remaining below 4.5 per cent. The S&P 500 saw a small advance after the market notched its third straight week of gains. The tech-heavy Nasdaq 100 headed toward its highest since January 2022. Microsoft Corp. climbed as the software giant hired OpenAI co-founders Sam Altman and Greg Brockman to lead its new in-house advanced artificial intelligence research team. The dollar was set for its lowest since August.
On Wall Street, the S&P 500 was up 0.16 per cent at 4,521.68. The Dow Jones Industrial Average was up 0.20 per cent at 35,016.28 while the Nasdaq composite was up 0.46 per cent at 14,190.41.
In Toronto, the S&P/TSX composite index was up 0.23 per cent 20,221.86.
Bloomberg
---
10:02 a.m.
Freeland announces tax changes to curb Airbnb, short-term rentals
Finance Minister Chrystia Freeland will announce tax changes designed to curb the use of Airbnb Inc. and other short-term rental services in regions of Canada where those platforms are restricted, according to media reports.
The measure will be part of Freeland's fall economic statement on Tuesday, according to reports in Montreal's La Presse and the Toronto Star. The government will prohibit property owners from deducting expenses on short-term rentals in areas where those services are already limited by other levels of government, the news outlets said.
Article content
The tax change, which would come into effect Jan. 1, is meant to crack down on property owners who flout local regulations, according to the Star and La Presse. A shortage of available homes to rent is an issue in places like British Columbia, where the provincial government recently introduced new legislation that makes it harder for owners to list empty properties on a short-term basis on sites such as Airbnb, VRBO and Expedia.y/Th
Freeland said last month she was examining what tools the federal government might use against short-term rental sites, which result in "fewer homes for Canadians to rent, especially in urban and populated areas of our country."
Canada Mortgage & Housing Corp., the federal government's housing agency, will be granted $15 billion to offer loans to real estate developers at advantageous rates for the construction of rental housing as part of a new housing package, La Presse said.
The Canadian Press
---
9:14 a.m.
First Quantum on verge of temporarily halting operations at Panama copper mine

First Quantum Minerals Ltd. says it has reduced operations at its Cobre Panama copper mine further and warns if a blockade of small boats at the mine's port continues it will have to temporarily halt production.
Article content
The company says it is down to one remaining ore processing train and that without shipments arriving at the mine's port, it expects to run out of supplies for the on-site power plant later this week.
People in Panama have been protesting an operating agreement between the company and the government for the mine that has raised nationalist anger as well as environmentalist objections.
First Quantum says the blockade by the boats has affected the delivery of supplies for the mine's on-site power generation plant, which is necessary for full operations.
It has also affected the loading of copper concentrate onto ships.
The company says if the blockade continues it will have to ramp down the remaining processing train this week and temporarily halt production.
The Canadian Press
---
7:30 a.m.
Microsoft to appoint Sam Altman CEO of new in-house AI team
Microsoft Corp. said that Sam Altman will lead the software developer's new in-house artificial intelligence team after the OpenAI co-founder was ousted from his startup last week, a bid to shore up Microsoft's AI plans and reassure investors.
Article content
Greg Brockman, an OpenAI board member and co-founder who also left the company last week, will join Altman and Microsoft will "move quickly to provide them with the resources needed for their success," the Redmond, Washington-based company's chief executive Satya Nadella said in a post on LinkedIn early on Nov. 20. In another post on X, formerly Twitter, Nadella said Altman will serve as CEO of the new in-house group.
The move, at midnight local time on Nov. 19, was the latest in a dramatic three days for Microsoft and OpenAI's relationship, a backup plan for Nadella after his efforts to restore Altman and Brockman to OpenAI were thwarted. The OpenAI board named former Twitch chief Emmett Shear as CEO. Nadella wrote that Microsoft looks forward to getting to know Shear and working with him.
Bloomberg
---
Before the opening bell: Futures steady to start the week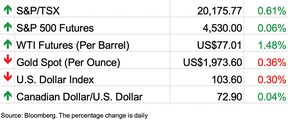 The United States dollar extended a decline, with a gauge of greenback strength hitting its lowest level since August, amid speculation the U.S. Federal Reserve is nearing the end of its rate-hike cycle.
Article content
U.S. equity futures were little changed after a three-week stock rally that propelled the S&P 500 to an 11-week peak. Microsoft Corp. climbed more than two per cent in pre-market trading after hiring Sam Altman, the OpenAI co-founder ousted from his startup last week, to lead its in-house artificial intelligence team. Treasury yields ticked higher ahead of a U.S. 20-year auction.
The Stoxx Europe 600 index fluctuated as a slew of negative corporate news weighed on shares.
In Canada, the S&P/TSX composite index closed up 122.70 points to 20,175.77 on Friday.
Bloomberg
---
What to watch today
Statistics Canada will release construction investment data for September at 8:30 a.m. ET.
The Canadian Radio-television and Telecommunications Commission holds its first public hearing to consider whether online streaming services should make an initial contribution to support Canadian and Indigenous content and, if so, where these should be directed to best benefit the broadcasting system.
The 2023 Housing Central Conference, a conference on affordable housing, takes place in Vancouver.
Need a refresher on Friday's top headlines? Get caught up here.
Additional reporting by The Canadian Press, Associated Press and Bloomberg
---
Bookmark our website and support our journalism: Don't miss the business news you need to know — add financialpost.com to your bookmarks and sign up for our newsletters here.
Galway honour three Ireland rugby stars celebrating their sporting … – Irish Independent
Three Connacht and Ireland rugby stars have been honoured by Galway City Council.
On Tuesday November 28, a mayoral reception was held in City Hall for rugby players Bundee Aki, Finlay Bealham and Mack Hansen.
The trio were honoured by Galway City Council for their sporting achievements in this year's Six Nations, at the Rugby World Cup, and as part of the Connacht Rugby squad.
Cllr. Eddie Hoare, Mayor of the City of Galway, said: "Every try, every point, every ruck, every line out, every throw in – whether we were in Knocknacarra or Westside or Mervue or France – we were there with you at the Rugby World Cup. All of us are here today to acknowledge you – your sporting prowess, your dedication, your sportsmanship – that is an example to any young player in any sport. There's no doubt you have inspired a new generation of rugby players in Galway and in Ireland.
"We have a number of clubs in the city with boys and girls taking to the pitch every day of the week, inspired by what you did at the World Cup, the Six Nations, and in Connacht Rugby. Your energy, your physicality, your prowess – the preparation you put in – are an example to them. We share our gratitude and thanks to your families, friends and teams at home, who set you on the course to be here with us today in Ireland."
The Mayor also recognised the essential work of Connacht Rugby in bringing world-class players to the province.
Galway City Council is sponsor of Connacht Rugby through the Marketing Fund. The Fund supports events and activities that drive footfall into the City Centre during the tourism off season. Connacht Rugby plays a huge contribution to the economic, sporting and social activity in Galway City. Mayor Hoare closed the event by wishing all in Connacht Rugby the best for the remainder of their 2023 Fixtures, and in 2024.
Stock market news today: US stocks split as Fed's favorite inflation … – Yahoo Finance
OPEC+ agrees on additional output cuts
Oil has had a volatile trading session in reaction to the latest production decision from OPEC+. After initially trading higher, West Texas Intermediate (CL=F) futures fell nearly 2% after 11 a.m. ET on Thursday.
Yahoo Finance's Ines Ferre reports:
The OPEC+ group on Thursday agreed to additional output curbs of 1 million barrels per day in a move that could send oil prices higher. The deeper reductions come alongside an extension of Saudi Arabia's unilateral reduction of 1 million barrels per day.
The move was reported by multiple outlets, citing delegates at the group's meeting. Members of OPEC+, the consortium of some the world's largest producers and its allies, will vote on the deal at the group's meeting Thursday.
"Production increases in the U.S., Guyana and Brazil will soften the blow caused by OPEC's announced production cuts but that doesn't mean consumers in the US won't feel some sting from this at the pump," KPMG US energy leader Angie Gildea said immediately following the announcement.
"Further, even though weaker global economic expectations have been keeping prices relatively low right now, it just takes one wildcard event to disrupt the market and put us back in a tight supply situation that could send prices back up," added Gildea.
Thu. 10:06 a.m.: Global leaders pay tribute to Henry Kissinger, but … – Warren Tribune Chronicle
<!–
–>
TOKYO (AP) — Global leaders paid tribute to former U.S. Secretary of State Henry Kissinger this morning, but there was also sharp criticism of the man who remained an influential figure decades after his official service as one of the most powerful diplomats in American history.
Kissinger, who died Wednesday at 100, drew praise as a skilled defender of U.S. interests. On social media, though, he was widely called a war criminal who left lasting damage throughout the world.
"America has lost one of the most dependable and distinctive voices" on foreign affairs, said former President George W. Bush, striking a tone shared by many high-level officials past and present.
"I have long admired the man who fled the Nazis as a young boy from a Jewish family, then fought them in the United States Army," Bush said in a statement. "When he later became Secretary of State, his appointment as a former refugee said as much about his greatness as it did America's greatness."
Kissinger served two presidents, Richard Nixon and Gerald Ford, and dominated foreign policy as the United States withdrew from Vietnam and established ties with China.
Criticism of Kissinger, who was awarded the Nobel Peace Prize for his role in negotiating a cease-fire in Vietnam in 1973, was especially strong on social media, where many posted celebratory videos in reaction to his death.
A Rolling Stone magazine headline said, "Henry Kissinger, war criminal beloved by America's ruling class, finally dies."
Across South America, Kissinger is remembered as a key figure that helped prop up bloody military dictatorships, claiming they would put the brakes on socialism in the region. Documents have shown Kissinger's and Nixon's support for the 1973 coup that deposed Chile's president. Gen. Augusto Pinochet's dictatorship went on to violate human rights, murder opponents, cancel elections, restrict the media, suppress labor unions and disband political parties.
"A man has died whose historical brilliance never managed to conceal his profound moral misery," Chile's Ambassador to the United States, Juan Gabriel Valdes, wrote on X. Chile's leftist President Gabriel Boric retweeted the message.
The head of the independent Documentation Center of Cambodia, Youk Chhang, described Kissinger's legacy as "controversial" though not widely debated in the country. Well over half of the population was born after the Khmer Rouge were ousted in 1979, and even those who lived through the civil war and the group's brutal rule recall the U.S. involvement and its B-52 bombers, "but not Henry Kissinger," he said.
"Henry Kissinger's bombing campaign likely killed hundreds of thousands of Cambodians — and set (a) path for the ravages of the Khmer Rouge," Sophal Ear, a scholar at Arizona State University who studies Cambodia's political economy, wrote on The Conversation.
"The cluster bombs dropped on Cambodia under Kissinger's watch continue to destroy the lives of any man, woman or child who happens across them," Sophal Ear wrote.
Kissinger's legacy in Africa is pinned for many historians on his official visit to apartheid South Africa in 1976, just a few months after the apartheid regime's police had killed more than 170 Black protesters, most of them schoolchildren, in the Soweto uprising.
At the time, the United States was allied with apartheid South Africa as a buffer against Soviet influence in Africa during the Cold War. Kissinger saw South Africa as "merely a gambit in the game of the Cold War," said Prof. John Stremlau, Honorary Professor of International Relations at the University of the Witwatersrand in Johannesburg and a former vice president for peace programs at The Carter Center.
"He (Kissinger) never, I think, saw Africa as anything more than instrumentality in the larger geopolitical game," Stremlau said. "And so therefore not recognizing that Africa had its own integrity and its own drives and its own ambitions and its own values that needed to be accommodated."
China's President Xi Jinping sent President Joe Biden a message of condolence this morning.
"Dr. Kissinger will always be remembered and missed by the Chinese people," the message said, according to state broadcaster CCTV. Further, "China is ready to work with the United States to carry on the cause of friendship between the Chinese and American people, to promote the healthy and stable development of China-United States relations for the benefit of the two peoples, and to make due contributions to world peace and development."
Foreign Ministry spokesperson Wang Wenbin called Kissinger an "old friend and good friend of the Chinese people, and a pioneer and builder of China-U.S. relations."
Many on social media in China mourned his passing. CCTV shared on social media an old segment showing Kissinger's first secret visit to China in 1971, when he broached the possibility of establishing U.S.-China relations and met then-Premier Zhou Enlai.
Kissinger exerted uncommon influence on global affairs long after he left office. In July, for instance, he met Xi Jinping in Beijing while U.S.-Chinese relations were at a low point.
Japanese Prime Minister Fumio Kishida paid tribute to Kissinger, praising his contributions to the peace in the region, especially his role in normalizing U.S.-China relations, saying he learned a lot from the former diplomat.
"I myself had the privilege of meeting him in person a number of times since I was younger and had the honor of learning from his insights," Kishida told reporters in Tokyo.
"Henry Kissinger's strategy and excellence in diplomacy has shaped global politics throughout the 20th century," European Commission President Ursula von der Leyen said in a statement posted on X. "His influence and legacy will continue to reverberate well into the 21st century."
Kissinger initiated the Paris negotiations that ultimately provided a face-saving means to get the United States out of a costly war in Vietnam.
Nixon's daughters, Tricia Nixon Cox and Julie Nixon Eisenhower, said their father and Kissinger enjoyed "a partnership that produced a generation of peace for our nation."
"Dr. Kissinger played an important role in the historic opening to the People's Republic of China and in advancing détente with the Soviet Union, bold initiatives which initiated the beginning of the end of the Cold War," the Nixon daughters said in a statement. "His 'shuttle diplomacy' to the Middle East helped to advance the relaxation of tensions in that troubled region of the world."
Former British Prime Minister Tony Blair said he was "in awe" of Kissinger.
"Of course, like anyone who has confronted the most difficult problems of international politics, he was criticized at times, even denounced," Blair said. "But I believe he was always motivated not from a coarse 'realpolitik,' but from a genuine love of the free world and the need to protect it. He was a problem solver, whether in respect of the Cold War, the Middle East or China and its rise."
Israeli President Isaac Herzog said as he met U.S. Secretary of State Antony Blinken in Tel Aviv that Kissinger "laid the cornerstone of the peace agreement, which (was) later signed with Egypt, and so many other processes around the world I admire."
Blinken said Kissinger "really set the standard for everyone who followed in this job" and that he was "very privileged to get his counsel many times, including as recently as about a month ago."
"Few people were better students of history," he said. "Even fewer people did more to shape history than Henry Kissinger."
U.S. climate envoy and former secretary of state John Kerry called Kissinger "a major figure in global politics."
"I've put out a public statement that honors his incredible service, historic individual," Kerry said while in Dubai for the U.N. climate conference, or COP 28. "And our thoughts are with the family."
Russian President Vladimir Putin said in a message to Kissinger's wife that he was "a wise and far-sighted statesman" and his name "is inextricably linked with a pragmatic foreign policy line, which at one time made it possible to achieve detente in international tensions and reach the most important Soviet-American agreements that contributed to the strengthening of global security."
French President Emmanuel Macron wrote on X that "Henry Kissinger was a giant of history. His century of ideas and of diplomacy had a lasting influence on his time and on our world."
Leaders of Kissinger's native Germany paid tribute to the former diplomat, a Jew who fled Nazi rule with his family in his teens.
"His commitment to the transatlantic friendship between the USA and Germany was significant, and he always remained close to his German homeland," Chancellor Olaf Scholz wrote on X.
In a message of condolences to Kissinger's family, President Frank-Walter Steinmeier wrote that "with his détente and disarmament policy, Henry Kissinger laid the foundation for the end of the Cold War and the democratic transition in eastern Europe" which led to Germany's reunification.